Did The Fab Four Have Style?
I am very shortly about to embark on a Rock pilgrimage (and Roll, that is, not one of the geological variety) to see what can only be described as peak universal musical alignment. Over the course of three nights, The Rolling Stones, Bob Dylan, Paul McCartney, Neil Young, Roger Waters, and The Who are going to perform in Indio, CA in what Mick Jagger called, "Coachella for old people." Millenial, shmillenial- that's my music.
In celebration of this event, I'm going to dedicate a few posts to the sartorial prowess of some of Rock and Roll's mightiest (you know I have a thing for artists' style). We'll start with The Beatles, whose work was so pivotal in cultivating my musical taste and establishing the foundation of my relationship with music. Beatles' songs accompanied me throughout so much of my early adolescence, helping broaden my horizons and connecting me to worlds far beyond my own.
What I find most incredible about music is that each one of us can have that precise kind of intimate relationship with it. The Beatles were important to me during the formative years of my life- and so too for millions of other kids around the world over decades. One particular kid (who grew up to be a certain particular rock legend) said this of the guys from Liverpool:
"I really wish I had been in The Beatles...[They] taught me how to play guitar, I learnt everything. The bass parts, the lead, the rhythm, everything. They were fantastic."
- David Gilmour, Multi-instrumentalist, Singer, Songwriter, Composer, and General Gift to Humanity
So, they revolutionized music, galvanized many generations of youth, and unequivocally changed the world, but did The Beatles have style? What role did their clothes play as their music was changing the world? Let's explore, referring to the four phases of their career.
__________
Phase 1: Pop Stardom & Beatlemania (1962-1964)
Albums: Please Please Me, With the Beatles, A Hard Day's Night
Key hits: I Want To Hold Your Hand, She Loves You, Can't Buy Me Love, Yesterday
What they wore: Matching suits, often collarless, and always well tailored, in a neutral palette. The guys stuck to a fairly uniform, polished look and let their music (and hair) do the talking.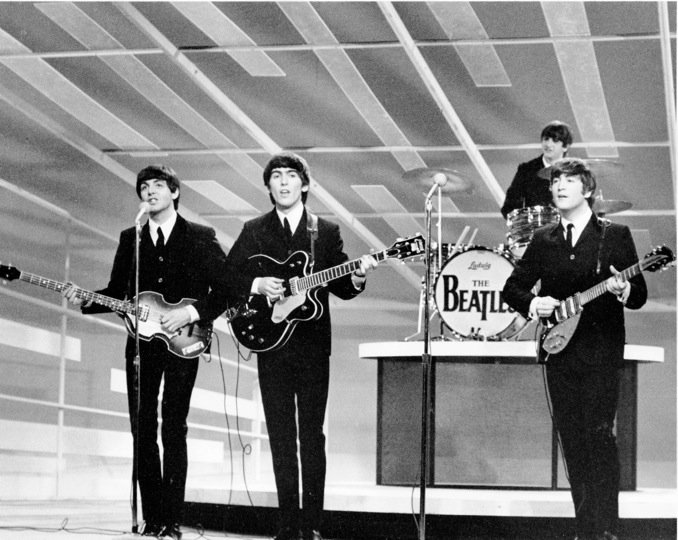 About the clothes: Looking back on these images, suits seems like quite a straight-laced choice for Rock and Roll revolutionaries, but these suits were in fact part of a social revolution at the time: mod culture. Mod, short for modern, was a subculture that emerged in England in the early 1960s centered on a philosophy of dressing stylishly, listening to soul, jazz, and R&B, and riding scooters. Seems like a random set of inclusion criteria but it was speaking to a generation of young people trying to find their place in the world and it was obviously resonant. The culture (and the look) eventually spread from young English men, to young English women, to America with The Beatles.
In context:
"Visually, they are a nightmare: tight, dandified, Edwardian/Beatnik suits and great pudding bowls of hair. Musically, they are a near-disaster: guitars and drums slamming out a merciless beat that does away with secondary rhythms, harmony and melody."
- Newsweek Magazine, Review of The Beatles appearance on the Ed Sullivan Show, February, 1964.
"We changed the hairstyles and clothes of the world, including America – they were a very square and sorry lot when we went over."
- John Lennon
__________
Phase 2: Transition To A More Serious Sound (1964-1966)
Albums: Beatles for Sale, Help!, Rubber Soul
Key songs: We Can Work It Out, Help!, I Feel Fine, Eight Days A Week
What they wore: During this phase, they moved away from suits in favor of jeans, turtlenecks, and sport coats.
About the clothes: As their music got more serious, their look became more relaxed. By 1965, the matching suits were gone, swapped out for a look that was still relatively coordinated but conveyed less of that fresh boy-band image.
In context:
"In 1966, they spawned a whole new fashion trend when they began wearing more casual clothes."
- Martin W. Sandler in How the Beatles Changed the World
__________
Phase 3: Psychedelia (1966-1967)
Albums: Revolver, Sgt. Pepper's Lonely Hearts Club Band, Magical Mystery Tour
Key hits: All You Need Is Love, Come Together, Hello Goodybe, Strawberry Fields Forever
What they wore: Bright suits, silk shirts with floral and paisley patterns, Indian-inspired tunics and vests.
About the clothes: During this period, The Beatles were heavily influenced by a 1966 trip to India, as well as by the experimentation with drugs at this time. Looking Eastward, and inward, provided the catalyst for a dramatic change in their approach to style.
In context:
" In 1967 and 1968, at the same time they were experimenting with their music and producing groundbreaking albums, the Beatles experimented with their clothing as well. The result was the most dramatic of their fashion transformations...Thanks to the Beatles' so called peacock style of presenting themselves, another dramatic change took place. For the first time, men began to display a flair for fashion, which had for so long been the exclusive domain of women."
- Martin W. Sandler in How the Beatles Changed the World
"In a deliberate move away from the uniformity of the early image, the Beatles appeared in their first 1967 official photoshoot individually styled, sporting facial hair and differently coloured (sic) styles of jackets, scarves and trousers. The shoot was also the first time John Lennon's round spectacles were featured in publicity material. The band's psychedelic period was part of a response to wider cultural trends in fashion, visual art, and graphic design."
- National Museums Liverpool, The Beatles and Image
__________
Phase 4: Back To Their Roots (1968-1970)
Albums: White Album, Abbey Road, Let It Be
Key hits: Hey Jude, Come Together, Let It Be, Something
What they wore: Bellbottoms, silk shirts, hats, jean on jean, fur coats, basically whatever it seems they felt like wearing.
About the clothes: In the band's final years (before they broke up in 1970) their clothes said so much about what was happening on the inside. After years of frenetic global fame as a foursome, The Beatles wanted to be four separate individuals. They ditched a coordinated look for what seems to be their own unique personal styles. Lennon in his glasses, Paul looking tailored and clean cut, George looking interesting and Ringo with a bit of flair.
In context:
"One of the reasons for their breakup would be their desire to pursue individual lives and different lifestyles. These choices would be reflected in their clothing."
- Martin W. Sandler in How the Beatles Changed the World
__________
So, did The Beatles have style? Absolutely. They had the best kind of style: one that was authentic to their personal experiences at specific periods in their life. They always understood the inherent power of clothes. Over time, it would seem they also developed an understanding of the unique ability clothes have to visually reflect ideas, philosophies, and world views. More than anything, I think they understood that they way they dressed could help turn musical notes into a revolution.
__________
Sources:
2. Campbell, M., & Brody, J. (2007). Rock and Roll: an introduction. Cengage Learning.
3. Blanco, J., Hunt-Hurst, P. K., Lee, H. V., & Doering, M. (Eds.). (2015).Clothing and Fashion: American Fashion from Head to Toe. ABC-CLIO.
4. Sandler, M.W. (2014). How the Beatles Changed The World. Bloomsbury Publishing.
Photos in this post not my own.